E-Mobility
INNOVATIVE ELECTRIC TRANSPORT SOLUTIONS

EV charging services, public and private infrastructure, and interesting offers to drive around your electric vehicle, while respecting the environment.
ROAMING
More than 35,000 charging points in Italy, with charging stations where you can enjoy our services via the D-Mobility App.
OUR NETWORK
An industrial project to expand our charging network, with about 1,800 new stations.
ENERGIA VERDE
100% of the energy delivered by our charging stations is certified as being produced from renewable sources.
CHARGING SERVICES
Discover all our EV charging offers: pay per use, top-up cards, or monthly subscription plan.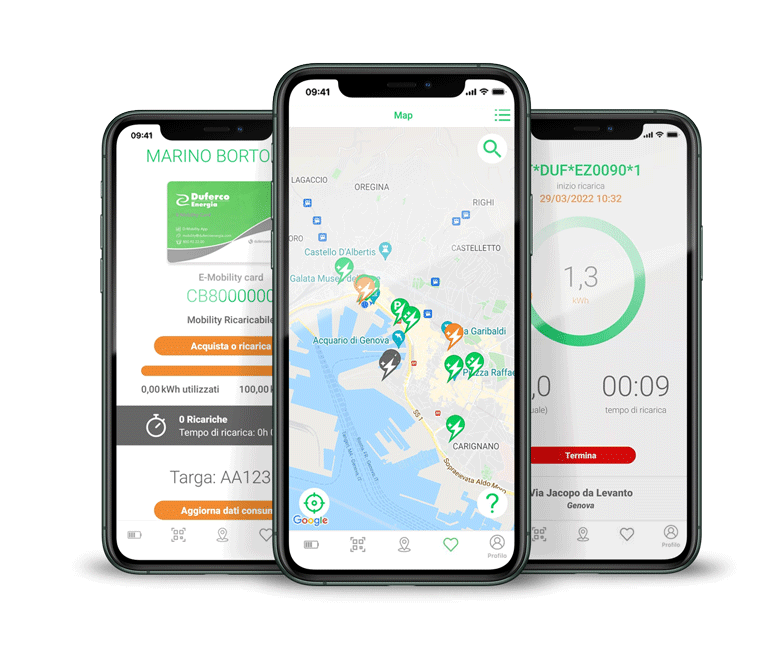 WOULD YOU LIKE TO RECEIVE A CHARGING STATION FREE OF CHARGES?
Do you have a private space accessible from the outside? Install a charging station for free thanks to the Duferco Energia's Infrastructure Plan.
In 2022, we have secured a €26 million funding from Cassa Depositi e Prestiti (CDP), Crédit Agricole Italia (CAI), and the European Investment Bank (EIB). This grant will be used to expand our electric vehicle charging network, with about 1,800 new stations.
If you have a private space that is accessible from the outside, you can apply for the installation of a Duferco Energia charging station, at no cost.
We will take care of the management for the first 12 years, then it's yours!
PROJECTS
We periodically activate projects or participate in calls for proposals to enhance zero-emission mobility through the installation of new stations or the implementation of technological solutions that support the green transition.
D-MOBILITY APP
Available for iOS and Android in four languages
With our App you can:
Manage your personal account, with balance and charging history
Search for the nearest charging station
Activate a charging session
Leave a feedback on your experience with our stations or services
Monitor in real-time your charging session
Receive alerts for available stations
Book charging stations
Monitor CO2 saved with your charging sessions.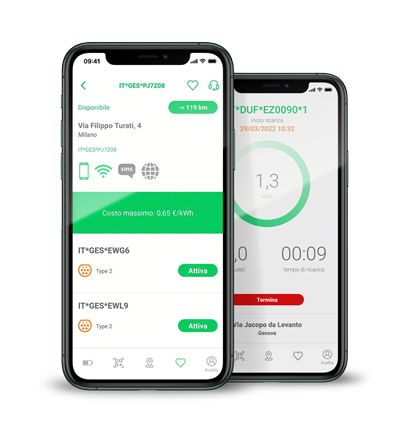 Ask for more information contacting our toll-free number
Need more information?
Check our FAQ. If you do not find the answer you are looking for or if you would like to get in touch with us, please fill out the form.